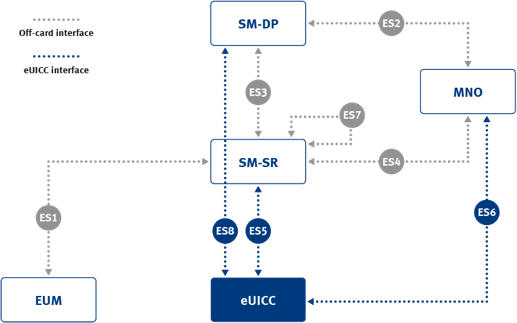 MNO Challenges:
Being able to support IoT new business models by allowing service to various verticals using SM-DP and SM-SR as hosted service.
Being able to serve the new SIM cards - embedded SIMs

Security:
The eSIM platform uses the latest security technologies, as defined in GSMA standard, including AES and RSA cyphers, ECC PKI supporting the GSMA/GlobalPlatform requirements. Both SMS and HTTPS modes of operations are supported, with all available standard options and cipher suites.
The Solution:
CALLUP eSIM platform, with its SM-DP and SM-SR servers, allows operators who use CALLUP IoT eSIM Engine to securely encrypt their SIM profile and prepare it for over the air installation within any eSIM device.
SM-DP provides the operator with the interface for preparing batches of virtual cards, and connecting to external SM-SR servers for deploying their profile on any supporting device, be it a smart meter, connected car, smart watch or any other device.

Features:
Send a complete SIM card to any supporting device - no need for physical SIM replacement!
Download Profile/Delete Profile/Enable Profile/Disable Profile
Control each aspect of the policy rules
Rich management interfaces with CVMS - Callup Versatile Management System
Automatic virtual-card generation, produce out files and load into IT systems the same as a regular SIM card
Supporting all standard ESx interfaces
Billing interfaces for optional charging
Provisioning and operation interfaces with standard web services APIs
Various KPIs for advanced monitoring and service quality assurance
Advanced reporting module