CALLUP to Introduce Smart Fi System for Data Offloading at Mobile World Congress
Rosh Haayin, Israel,

February 12, 2014

. CALLUP, a provider of Value Added Services (VAS) and Mobile Device Management (MDM) solutions for the telecom industry, today announced that at the Mobile World Congress it will introduce Smart Fi – an innovative carrier-grade system for data offloading. The new system allows cellular operators to offer their customers a seamless and automatic access to Wi-Fi hotspots for data communications, without requiring any proactive steps from the user. The Mobile World Congress will be held

February 24-27, 2014

in Barcelona, Spain. CALLUP's solutions will be displayed at the company's booth (#
5D81
, hall 5).

"Smart Fi allows a completely 'cellular-like' experience, while meeting users' preference to use Wi-Fi for data communications, which is much cheaper while roaming, or even free of charge," said Alon Roth, CALLUP's CEO.
"On the other hand, cellular operators can highly benefit from Smart Fi by reducing network load and congestion,
improve service to subscribers in in-building scenarios, and enhance network quality, which is constantly monitored."
CALLUP's Smart Fi seamlessly detects and connects to available Wi-Fi hotspots, according to a smart policy based on elements such as battery level, user profile,
Mobile Country Code (MCC) and Mobile Network Code (MNC).
The user does not have to do anything. Even if the Wi-Fi network is not free, the user does not have to provide his credit card details. A pop-up asks for confirmation to connect and pay from the regular phone bill.

Smart Fi is another step in CALLUP's strategy to provide cost saving tools and solutions to cellular operators. Recently, the company announced the Roam Home SMS solution, which enables operators to use the Internet for SMS delivery, and Roam Home Voice, a solution that enables cellular operators to switch calls automatically and seamlessly from cellular to IP networks.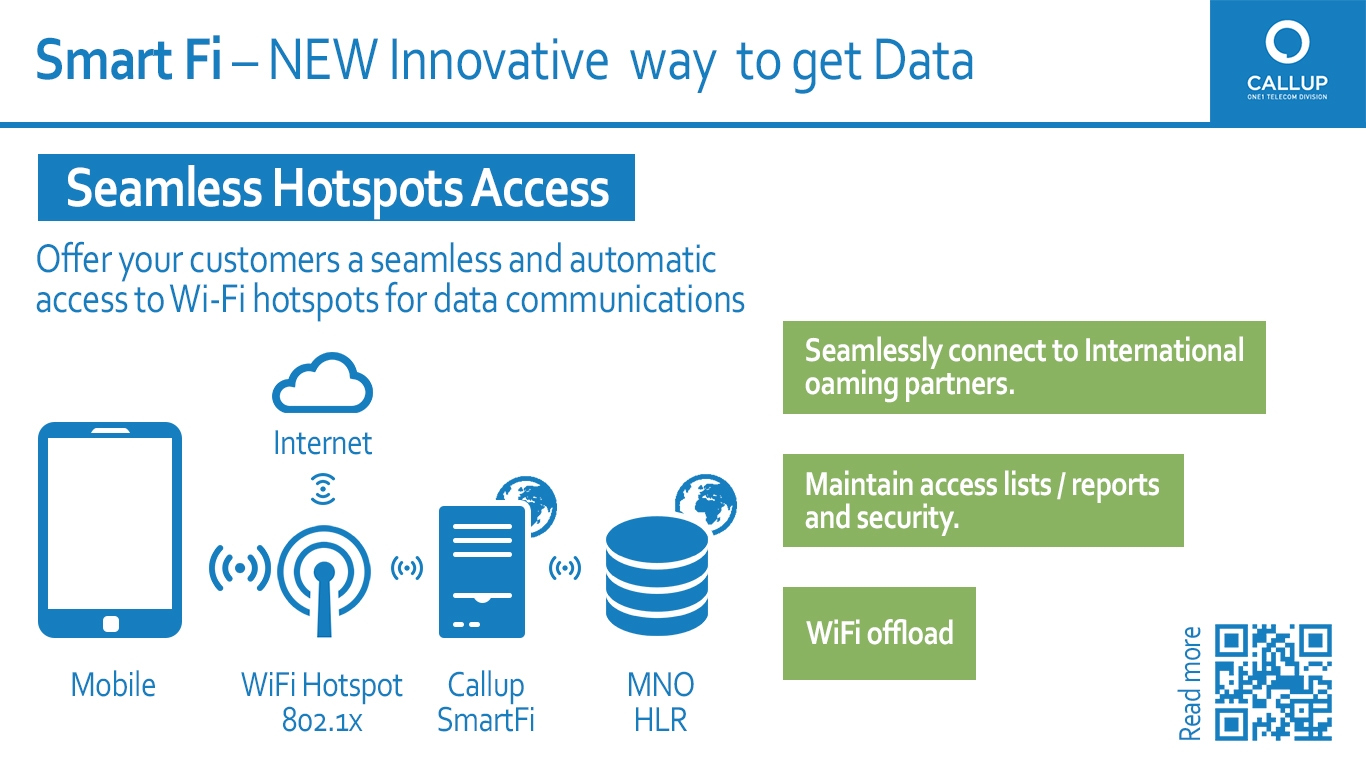 About CALLUP
Founded in 1999, CALLUP provides Value Added Services (VAS) and Mobile Device Management (MDM) Solutions. CALLUP is a subsidiary of the One1 Group, headquartered in Israel and listed on the Tel Aviv Stock Exchange (TASE: ONE). CALLUP's customer base spans the globe and includes fixed, mobile, VoIP telecom operators, MVNEs and MVNOs, as well as leading telecom providers that CALLUP serves as an OEM.
For more information, visit
www.callup.net